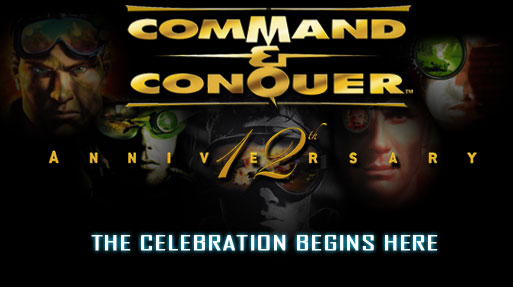 Free and Legal from
CommandAndConquer.com
Thanks largely to the efforts of our loyal fans whom continue to sustain and grow the Command & Conquer community, Command & Conquer has become a legendary franchise and it's time to celebrate its birth once again.
In order to give back to the fans for over 12 years of devotion we are putting together a 12th Anniversary celebration during the month of September. However, as any Command & Conquer fan knows, the true party starts today, August 31st, which marks 12 years since Command & Conquer Gold launched way back in 1995.
To kick the celebration off, today we have a special surprise which we are certain new and old Command & Conquer fans will enjoy. We are providing the original Command & Conquer Gold as a free download, compatible for Windows XP! This is the same version included with the collectors pack Command & Conquer: The First Decade, and is now available for you to download for free!
As the original files are no longer hosted by EA, we have created a mirror on Digiex for your convenience, we have also included the patch to enable you to play the game in resolutions up to 1280x768.
Downloads:
C&C Gold - Torrent
(Includes both CD's and the patch)
C&C Gold - GDI CD
C&C Gold - NOD CD
Install Instructions
Higher Resolution Patches
- The latest version can be downloaded from:
http://nyerguds.arsaneus-design.com/cnc95upd/cc95p106/
For information on how to burn the image file to disc please have a look at the following Digiex guide:
How to burn BIN, CUE, DI, DVD, GI, IMG, ISO, MDS, NRG and PDI images to disc
.
64bit Windows Users:
Nyerguds
has created a custom installer which works on 64bit versions of Windows, it is recommended you download this version as it includes many enhancements such as allowing you to use higher screen resolutions and most importantly you can install the game and have a fully functional copy that works on Windows XP, Vista and 7 64bit editions. (Also works on 32bit Windows versions)
After installing go to the folder you installed to and set the compatibility mode for C&C95.exe to:
-Win95 for XP
-Win98 for Vista or higher
Download:
Nyerguds C&C Complete No-CD game installation pack (v1.06b r2, no videos, all music included)
Download:
Video Addon
Just un-rar the video addon to your install folder and you can now play through the campaign complete with all the cut scenes.
Nyerguds website:
Link